Visit by Prof. Chen-Ning Yang to FAST
On October 18, 2017, Prof. Chen-Ning Yang, Nobel Laureat of Physics, together with Henry T.Yang, Chancellor of University of California,Santa Barbara, and Prof. Douglas N. C. Lin from University of California at Santa Cruz, made an on-site visit to the Five-hundred-metre Aperture Spherical Radio Telescope (FAST).
In the trip, they visited the bottom of the depression, girder ring, and the Control Room to have a detailed understanding of mechanism and technical details of its active reflectors and feed core cabin. They were briefed about the development of FAST construction and early Science. Prof. Yang encouraged the young scholars present to treasure the opportunity of working with this national meg-science facility and take the best use of it with consorted efforts in order to produce research results as early as possible.
Prof. WANG Enge, Vice President of Chinese Academy of Sciences (CAS), Prof. XUE Suijian, Deputy Director-General of NAOC, Dr. PENG Bo, Deputy Manager of FAST Project, Dr. LI Di, Deputy Engineer-in-Chief of FAST project, and Dr. ZHU Ming, Deputy magistrate of Pingtang County also joined the visit.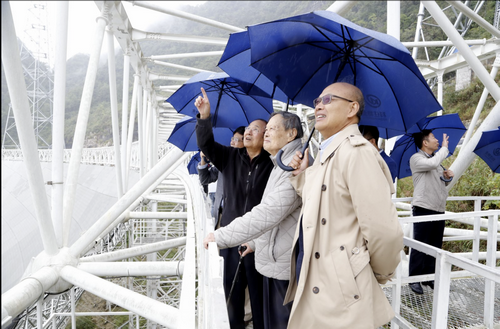 AT the girder-ring of FAST
Discussion with the FAST Group
Group photo with the FAST Group

Copyright © National Astronomical Observatories, Chinese Academy of Sciences
Address: 20A Datun Road, Chaoyang District, Beijing, China code: 100012
Tel: 010-64888708 E-mail:
naoc@nao.cas.cn